Abrir uma conta WebMoney
Se ainda não tem uma conta WebMoney, é fácil abrir uma. Basta clicar neste link para abrir uma conta.
Quando tiver criado e feito um depósito na sua conta WebMoney, poderá fazer depósitos na sua conta SlotsMagic e começar a jogar imediatamente.
If you need additional help, click here to access the Help Desk page on their website.
Para obter apoio técnico por e-mail, escreva para a nossa Equipa de Apoio: support@wmtransfer.com.
You can also contact the WebMoney technical support call center. You can find this on their Contact page on their site.
Consulte em baixo uma lista de números de centros de apoio técnico internacional:
+7 (495) 727-43-33 – Moscow.

+7 (812) 336-43-18 – St. Petersburg.

+1 (212) 202-66-06 – United States.

+44(203) 239-60-39 -UK.
Instruções
Start by going to //www.wmtransfer.com and select your desired language from the top right hand corner. Once you are ready press the "Sign Up Now" button.

Existem 4 etapas para abrir a sua conta WebMoney, consistindo a primeira em introduzir e confirmar os seus dados pessoais.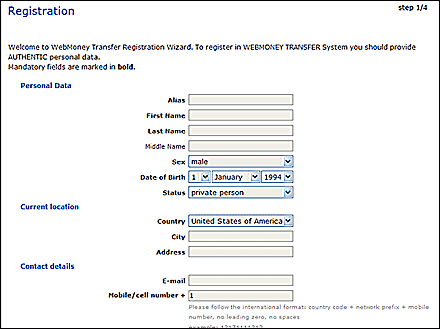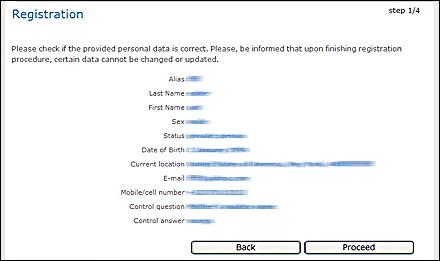 Note que todos os dados têm de estar correctos para poder continuar.
A segunda etapa consiste em introduzir o seu código de registo, que lhe foi enviado para o e-mail especificado nos seus dados pessoais. Assim que o código for verificado, será encaminhado para a página de verificação do Telemóvel.

This page contains instructions for sending an SMS from your phone for Mobile/cell verification.
Please wait for confirmation to proceed.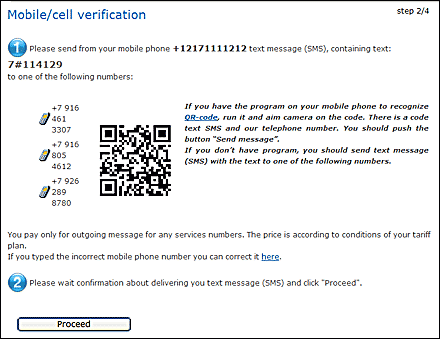 Quando receber a SMS, enviar-lhe-emos uma mensagem de confirmação.
Quando receber a confirmação, clique em "Proceed" (Continuar) para criar a sua conta e concluir o processo de inscrição.
A disponibilidade depende do seu país